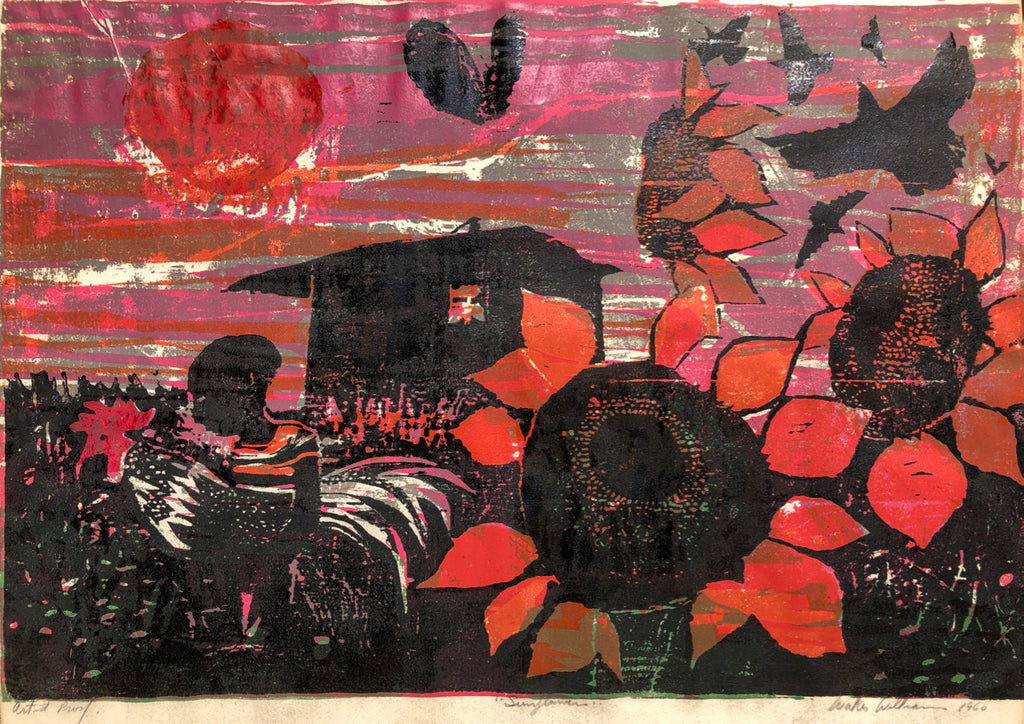 Click image to enlarge
Sunflowers by Walter H. Williams, Amer., (1920-1998)
Color Woodcut, 1958, printed 1960, first state Ed. of 200,
second state without the black butterfly top center as published in 1966,

22-1/2 x 28-1/2, signed, titled and annotated Artist's Proof in pencil, on cream wove japan paper. African American Artist Walter Williams, (1920-1998), captures the innocence and earthy beauty of childhood on a rural southern farm. His prints often portray one or two solitary children, outdoors in a field, with only a butterfly, rooster or sunflowers as here,
for a

playmate

. Occasionally we see a ramschackle outbuilding or abandoned plow in the background. The colors are mostly bright and cheerful in William's prints, even ecstatic as here; and though tempered by the poverty shown, their beauty rings true. I find them both eloquent and touching. Sunflowers is just the fourth print of his to pass through my hands in over 30 years. Williams work was just gaining attention in the mid 1960's when he moved to Denmark to escape the prejudice and discrimination he faced here as a black artist in America. The current revival of interest in work by earlier Afro American artists, has drawn new interest in his prints today. The printed surface itself here is beautiful and in good condition, but the side margins are very brittle and badly damaged by an inept framer, now split with nail holes, tears and losses mostly just outside left and right image edges where folded back for a too small frame. The top and lower margin have tape stains at edges well outside subject, and some printing creases by the red sun upper left. As said,  the print retains bright vivid colors in a beautiful impression. Despite these marginal issues, Sunflowers presents well, and is one of Williams's finest  prints. The price has been further reduced to reflect the marginal issues and a special mount created to present this beautiful print at it's best, and to encourage a happy adoption.